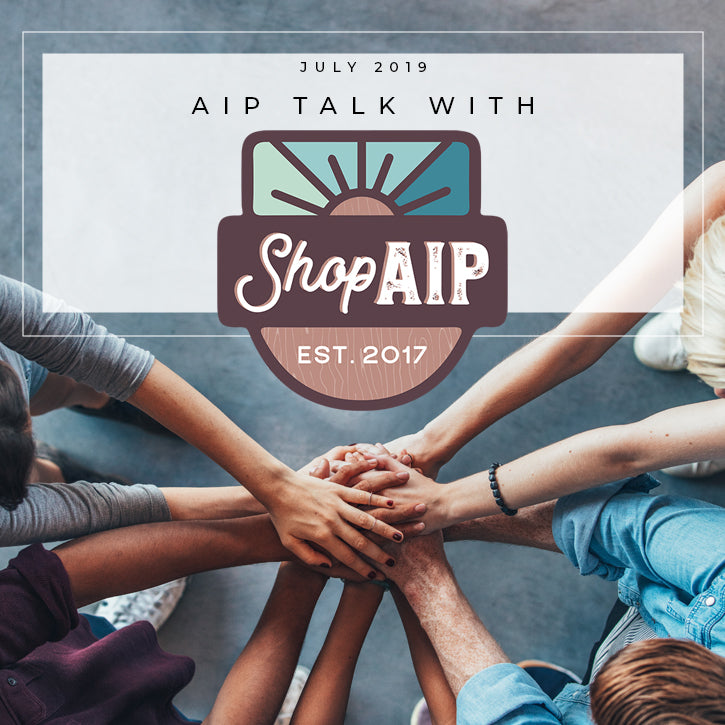 AIP Talk with Shop AIP July 2019
The ShopAIP Blog is a great resource for the latest articles, research, blog posts, podcasts, books, products and more related to the anti-inflammatory paleo autoimmune protocol (AIP) diet.
Some links in this post are affiliate links. That simply means I may receive a small commission (at no extra cost to you) if you purchase an item mentioned through the link.
Each month I'll be featuring the latest happenings in our AIP community and sharing here! You'll be able to get your favorite AIP staples and keep in the loop in one place.
NEW BOOKS AND PROGRAMS!
Therapeutic Paleo Approach – Watch and learn in this online course as Dr. Sarah Ballantyne digs deep in the diet and lifestyle layers that ultimately support our bodies. This is what Sarah does best! This course includes 5 hours of video and downloadable PDFs of her presentations. Dr. Sarah also reviews scientifically proven factors to reduce risks of obesity and disease, really emphasizing the key points to maximize therapeutic potential of our daily choices when on the autoimmune protocol.
7-Day Thyroid and Adrenal Recovery Guide – This jump-start program designed by Samantha Jo Teague includes three downloads packed with the resources you need to get on the right track to a happy thyroid and adrenal restoration! This plan includes a 25-page Recovery Guide, 18 printable egg-free paleo recipes (with AIP, coconut-free, and "super-sensitive-gut options"), a printable grocery list, pantry list, food diary, and meal plan chart!
The Autoimmune Protocol Comfort Food Cookbook – Michelle Hoover from Unbound Wellness has her cookbook available for pre-order! It will include over 100 recipes – all of which are classic comfort foods revamped to be AIP compliant. Nostalgic noms for everyone!
FOLLOW YOUR GUT
The Follow Your Gut fundraiser has less than a month left! Beth from Bon Aippetit is the lady behind this foundraiser and the shirts are ready to order! I got mine in green and love the retro look! If you're not familiar, the proceeds of these shirts go directly to the Terry Wahls MD Research Fund. Let's crush last year's donation!
IN CASE YOU MISSED IT:
#aipteam – The first week of July many AIP bloggers got together and shared what this idea meant to them. Who is in your AIP Team? Family and friends are important, but also professionals - therapists, fellow bloggers, life coaches, chiropractors, doctors... who helps you AIP?
NEW PODCASTS:
Phoenix Helix Podcast: Hashimoto's AIP Medical Study – In this podcast episode, Eileen talks with Dr. Rob Abbott and Angie Alt about the first medical study conducted to research the efficacy of the paleo autoimmune protocol for Hashi's patients.
Emotional Autoimmunity Podcast: Episode 17 – Kerry's guest, Jameisha, shares her experiences leading up to her official diagnosis of lupus. Unfortunately, it's a story many can relate to and includes a doctor who refused to order more tests for her, suggesting she was just depressed.
MUST-READ BLOG POSTS:
Messages from the Dark – This is a topic that doesn't get talked about nearly as much as it should. Depression is not something to hide in, but to work through with empathy and compassion. There are several great lessons to be learned from in this post!
Self-Care for Autoimmune Flares – Shanna has a great post offering tips on how to check in with yourself, slow down, and show yourself that same kindness you would show to a loved one who was struggling with a flare.
Why Crickets are Great for the Gut Microbiome – The idea of eating crickets gives most people pause, but hear Sarah out! She covers this topic in detail and has suggestions for what to look for when sourcing.
MS Monday: Traveling with Multiple Sclerosis – From before you leave all the way to your final destination, Alissa shares her top travel tips with us.
FEATURED RECIPES:
5 Tips For Healthier Smoothies – If you enjoy smoothies, this is a must-read post. Plus, Eileen shares a tasty Berry Green Avocado Smoothie recipe. Spoiler alert: She adds collagen!
Sweet Potato Turkey Burgers – These burgers have become a favorite in our home. Adding sweet potato helps stretch the budget, too!
Coconut Herbed Cauliflower Rice Salad – Joanna shares another delicious cauliflower recipe. This one uses flavorful staple pantry foods.
Blueberry Muffin Bites – Using a couple AIP flours, Jaime created a recipe Seinfeld fans will love!
NEW PRODUCTS:
Here's a collagen powder made from wildcaught fish!
ON SALE:
As always, have a look at the current items on sale and stock up on your favorite AIP goods! Right now, there's a huge variety of sale items, including Sweet Apricity Caramels!
Erin is the blogger behind Real Food and Love who has used the AIP diet and lifestyle to recover from three autoimmune diseases. She strives for balance and juggles life as a wife, mother of two wildlings and a one-year-old, and working part-time from home. All while avoiding stepping on Legos! One of her favorite Shop AIP products is KC Natural No Tomato Pasta Sauce.