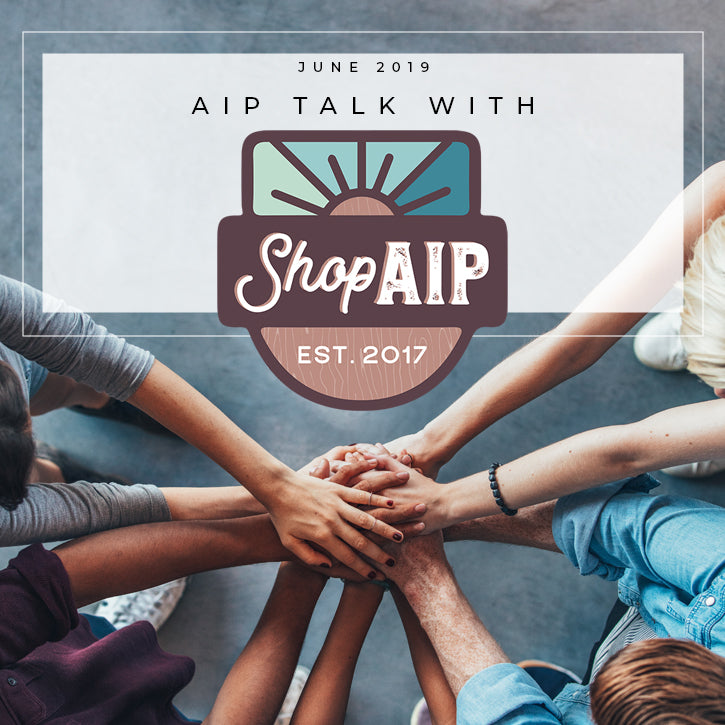 AIP Talk with Shop AIP June 2019
The ShopAIP Blog is a great resource for the latest articles, research, blog posts, podcasts, books, products and more related to the anti-inflammatory paleo autoimmune protocol (AIP) diet.
Some links in this post are affiliate links. That simply means I may receive a small commission (at no extra cost to you) if you purchase an item mentioned through the link.
Each month I'll be featuring the latest happenings in our AIP community and sharing here! You'll be able to get your favorite AIP staples and keep in the loop in one place.
NEW BOOKS AND PROGRAMS!
The Autoimmune Protocol – With this all-in-one e-book by Dr. Sarah Ballantyne, you'll be able to hone in on the new information that matters most, including 300+ pages of quick-access information on the AIP, new information on why nutrient sufficiency and gut health are a primary focus of the AIP, 4 weeks of meal plans with shopping lists, over 80 family-friendly recipes, and more!
PLUS! If you order this new book in June you'll get a special bonus: AIP Practical Printables! It's a 28-page guide of the most useful food lists (what to eat, what to avoid, and how to read labels), budget tips, top sources of essential nutrients, AIP cheat sheets, food tables, and extra eating guides!
7-Day Thyroid and Adrenal Recovery – This jump-start program designed by Samantha Jo Teague includes three downloads packed with the resources you need to get on the right track to a happy thyroid and adrenal restoration! It includes a 25-page Recovery Guide, 18 printable egg-free paleo recipes (with AIP, coconut-free, and "super-sensitive-gut options"), a printable grocery list, pantry list, food diary, and meal plan chart!
Relaxed Hypnotherapy Bundle – For the ultimate assist in the stress department! Kerry has created an incredible digital package! This bundle includes a 40-minute hypnotherapy recording with calming ocean waves to help the mind and body deeply relax, a PDF and audio workbook about how stress impacts the body, and what you can do to help yourself and different things you can do to relax and de-stress.
FOLLOW YOUR GUT
The Follow Your Gut fundraiser is BACK! Beth from Bon Aippetit created a new design for this year's t-shirts and they're ready to order! I got mine in green and love the retro look! If you're not familiar, the proceeds of these shirts go directly to the Terry Wahls MD Research Fund. Let's crush last year's donation!
NEW MEDICAL STUDY:
Medical Study on Eczema-Psoriasis and AIP – They're at it again! This time, Autoimmune Wellness is teaming up with MD/PhD student Lucy Mailing to further AIP research by conducting a pilot study entitled, "Effects of an anti-inflammatory diet on the gut microbiome and gut barrier function in eczema and psoriasis patients." Learn more about how you can help be a part of this groundbreaking study that will produce peer-reviewed data.
IN CASE YOU MISSED IT:
#aipmovement – The first week of June many AIP bloggers got together and shared in what ways movement helps in their healing. We saw that everyone seems to do their best with a wide variety of physical activities because every body is different.
NEW PODCASTS:
Phoenix Helix Podcast: The Forgiveness Controversy – Be prepared to be mind blown in the best way. In this podcast episode, Eileen chats with Dr. Harriet Lerner about forgiveness (and it isn't as simple as you might think). This one resonated deeply with me.
The Unskilled Cavewoman Podcast: Parenting with Chronic Illness – Parenting is a tough gig! I have a feeling this episode with guest Beth Chen will resonate with other parents in the community.
The Paleo Approach Podcast: Everything Vitamin D – In this podcast episode, Stacy and Sarah dig deep into the topic of vitamin D. Why this hormone (yes, it's actually a hormone) is so important, how deficiency is rampant not only in those who eat "normal" but also in the paleo community, and how once you are deficient you will need to work with your healthcare team to supplement.
MUST-READ BLOG POSTS:
How Ketogenic Diet Wreaks Havoc on Your Gut – Sarah shares the most recent scientific literature on the topic of keto and how it plays a role in the reduction of diversity in our gut microbiome. As far as gut health is concerned, we need all the diversity we can get!
MS Monday: Grief – If you're in the middle of working through grief that often comes after a health diagnosis. Alissa offers a good read on the topic.
Why You Should Develop Your Internal Locus of Control – When it comes to stress management, regaining a sense of control can be difficult. Joanna has great tips in this post. Many of which may become good practices in other areas of your life!
FEATURED RECIPES:
The Ultimate AIP Gelatin Recipe Roundup – Yes, yes! Let's hear it for the gelatin! In this post, I've gathered 80 AIP gelatin recipes for you to try.
Fish Tikka Masala – I love that Indira uses cranberries in this recipe instead of tomato!
Instant Pot Garlic Mashed Cauliflower – Here's a smart way to get that mellow roasted garlic flavor without turning on the oven!
Chai Spiced Norridge – Joanna is using sweet potato, apple, shredded coconut (and coconut flour), and lots of flavorful spices to create this tasty breakfast dish!
NEW PRODUCTS:
Here's an organic sauerkraut that's perfect for cooking with.
There's a new tigernut brand in stock! Tiger Nuts USA has chopped, sliced, and peeled tigernuts as well as flour!
ON SALE:
As always, have a look at the current items on sale and stock up on your favorite AIP goods! 
Erin is the blogger behind Real Food and Love who has used the AIP diet and lifestyle to recover from three autoimmune diseases. She strives for balance and juggles life as a wife, mother of two wildlings and a one-year-old, and working part-time from home. All while avoiding stepping on Legos! One of her favorite Shop AIP products is KC Natural No Tomato Pasta Sauce.