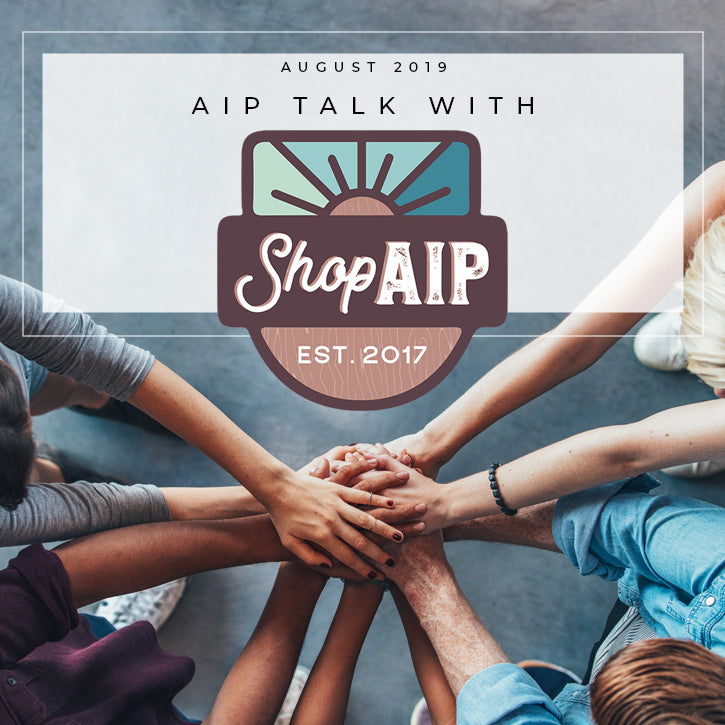 AIP Talk with ShopAIP August 2019
The ShopAIP Blog is a great resource for the latest articles, research, blog posts, podcasts, books, products and more related to the anti-inflammatory paleo autoimmune protocol (AIP) diet.
Some links in this post are affiliate links. That simply means I may receive a small commission (at no extra cost to you) if you purchase an item mentioned through the link.
Each month I'll be featuring the latest happenings in our AIP community and sharing here! You'll be able to get your favorite AIP staples and keep in the loop in one place.
LOOKING FOR PARTICIPANTS
The Eczema/Psoriasis AIP Medical Study Needs Participants! – Have you been diagnosed with eczema or psoriasis? Are you interested to learn more on how dietary and lifestyle changes may improve your skin condition and overall health? If so, you may be eligible to participate.
NEW BOOKS!
The Autoimmune Protocol Meal Prep Cookbook – Sophie has her newest book set to release this October! This one is all about meal prep, and making the AIP not only manageable, but sustainable for long-term use. It includes TEN weekly compliant menus, shopping lists, and batch cooking instructions.
The Autoimmune Protocol Comfort Food Cookbook – Michelle Hoover from Unbound Wellness has her cookbook available for pre-order! Launching this September, it will include over 100 recipes – all of which are classic comfort foods revamped to be AIP compliant.
IN CASE YOU MISSED IT:
30 Minute Meals for the Paleo AIP – This awesome e-cookbook is celebrating its birthday in a BIG way! For the entire month of August, if you buy 30 Minute Meals for the Paleo AIP, you'll get Freezer Cooking for the Paleo AIP free.
#becauseofaip – The first week of August, many AIP bloggers got together and shared what how AIP has changed their life. In big and small ways!
AIP Reset – The last AIP Reset of 2019 is kicking off in September and I'm joining in the fun! Save 15% if you use the code: ERIN - You can also read the reasons why I'm doing a reset.
NEW PODCASTS:
Emotional Autoimmunity Podcast: Episode 19 – In this podcast episode, Kerry sits down with Kirstie Howard who shares her story. Kirstie has experience with Hashimoto's and endometriosis and made the decision to go with IVF in the hopes of becoming a mother.
MUST-READ BLOG POSTS:
Paleo, Resistant Starch, and TMAO: New Study Warning Worth Heeding – Dr. Sarah Ballantyne says, "The results of this study are relevant to our community and offer a stern warning against long-term low-carb implementations of the Paleo diet."
Low-Power Mode: Self-Care During Challenging Times – Many of you may have heard, Eileen's recent challenges, not only with pneumonia, but also with the passing of her father. In this post, she shares five questions to ask yourself next time you feel depleted (emotionally or physically) by circumstances beyond your control.
Why The Words "Remission" and "Cure" do a Disservice to the Autoimmune Community – So often we see those two words thrown around haphazardly online. Mickey touches on an incredibly important topic here, "If we can accept that autoimmune disease is not curable, and that remission is not an accurate word to describe the healing journey, then what is the best way to speak about our progress?"
AIP Success Story: Celiac Disease with Alyssa – I don't know about you, but I love reading success stories! They're incredibly inspiring and often times relatable on some level.
MSMonday: Leg Weakness – Alissa answers a reader's question about leg weakness and what someone with MS can do about it.
Gut Health Fundamentals – Dr. Sarah covers another great topic for us this month. This one is all about gut health and the two main aspects of it: gut barrier health and gut microbiome health.
FEATURED RECIPES:
Golden Cream of Faux Wheat – This AIP Breakfast is made with plantain, apple, and some pantry staples. Oh, and don't forget the collagen!
Roasted Butternut Pumpkin Soup with Scallops – I love the addition of scallops in this soup. Coconut milk lends a touch of creaminess while the bone broth keeps the soup base savory.
Sour Cream – Stacey shares how you can make a sour cream substitute using coconut cream (with a heating pad or your Instant Pot).
NEW PRODUCTS:
Here's a collagen powder made from wildcaught fish!
PALEO WINNERS:
To celebrate ShopAIP being awarded 2nd Place for Best Online Shop in the Paleo Magazine annual Best Of Paleo awards, use code PALEOWINNERS to get 10% off all the other awesome AIP brands that also won!!
ON SALE:
As always, have a look at the current items on sale and stock up on your favorite AIP goods!
Erin is the blogger behind Real Food and Love who has used the AIP diet and lifestyle to recover from three autoimmune diseases. She strives for balance and juggles life as a wife, mother of two wildlings and a one-year-old, and working part-time from home. All while avoiding stepping on Legos! One of her favorite ShopAIP products is KC Natural No Tomato Pasta Sauce.