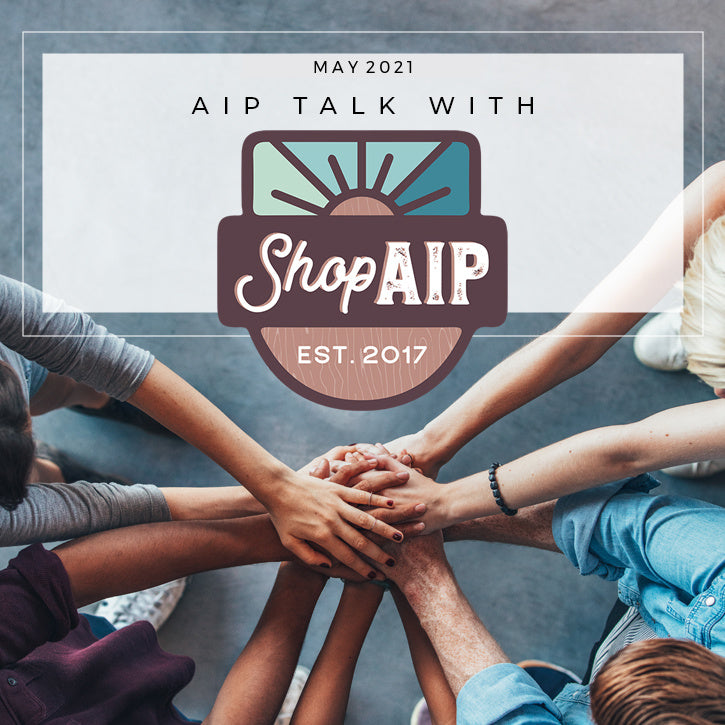 AIP Talk with ShopAIP May 2021
The ShopAIP Blog is a great resource for the latest articles, research, blog posts, podcasts, books, products and more related to the anti-inflammatory paleo autoimmune protocol (AIP) diet.
Some links in this post are affiliate links. That simply means I may receive a small commission (at no extra cost to you) if you purchase an item mentioned through the link.
Each month I'll be featuring the latest happenings in our AIP community and sharing here! You'll be able to get your favorite AIP staples and keep in the loop in one place.
NEW BOOK
AIP Sheet Pan Recipes: Volume 2 – Let's hear it for ingredients that are easy to source, steps that are simple to follow and require minimal personal energy, and the clean up afterward is a snap!
NEW PODCASTS AND VIDEOS:
Phoenix Helix Podcast: Episode 175 – Do you have questions about "long COVID syndrome"? Eileen chats with Chris Kresser and gets answers in this episode.
The Whole View Podcast: Episode 457 – What's the deal with Low-FODMAP diets? Are they necessary? For whom? Do them come with their own problems? Find out in this podcast episode.
NEW BLOG POSTS:
AIP Bloggers' Reintroduction Experiences Curious about people's reintroduction experiences? Kate asks some of her friends to share in this post.
Bone Broth FAQ – Do you have questions about bone broth? Sarah has answers!
15 Travel Hacks for a Healing Lifestyle – Planning on traveling this summer? Wendi shares her best hacks with us.
Should I Avoid Nightshades if I Have Autoimmune Disease? – Have you found you do better without nightshades? Amanda shares why and how to avoid them in this post.
FEATURED RECIPES AND RECIPE ROUNDUPS:
Paleo AIP Anti-Inflammatory Turmeric Recipe Roundup – Is turmeric part of your healing regime? Eileen shares a great turmeric recipe roundup and briefly shares why turmeric can be helpful!
Air Fryer Jicama Fries – Have you had jicama fries before? Here's how to make them with an air fryer.
Lemony Roasted Brussels Sprouts – These brussels sprouts sound light and refreshing! Love the addition of lemon.
Easy Rhubarb Upside-Down Cake – Rhubarb lovers! Nicole has a recipe for you.
Avocado Cucumber Gazpacho Soup – If the weather is heating up where you live, this soup is cooling and hydrating!
Paleo Pineapple-Shrimp Stuffed Avocados – We'll be needing an extra helping. You know, for our tastebuds' sake.
Broccoli Soup with Spinach and Mint – Sometimes soup is just what you need. Catharina's recipes are always worth the Google Translate!
AIP "Potato" Salad – This is a potato salad that's perfect for your next BBQ.
PRODUCT SPOTLIGHT:
Serenity Kids – These nutrient-packed toddler purees are a great source of vitamins, antioxidants, and minerals, that helps your growing little one learn to enjoy complex flavors and sets them up for healthier eating.
Reintroductions! - Considering the AIP isn't forever, we've expanded our product line to reflect that and celebrate your successful reintroductions! From time to time, you'll notice new products clearly labeled (e.g. Stage 1 Reintro AIP with the products' reintro ingredients listed).
ON SALE:
As always, have a look at the current items on sale and stock up on your favorites! You can also pre-order select items that are temporarily out of stock.
Erin is the blogger behind Real Food and Love who has used the AIP diet and lifestyle to recover from three autoimmune diseases. She strives for balance and juggles life as a wife, mother of three wildlings and a newborn. All while avoiding stepping on Legos! One of her favorite ShopAIP products is KC Natural Carrot Marinara Sauce.