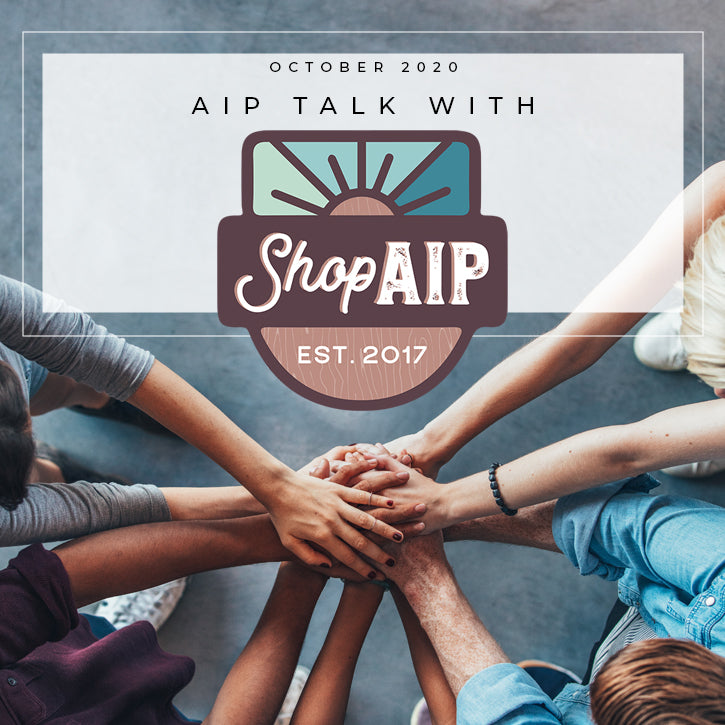 AIP Talk with ShopAIP October 2020
The ShopAIP Blog is a great resource for the latest articles, research, blog posts, podcasts, books, products and more related to the anti-inflammatory paleo autoimmune protocol (AIP) diet.
Some links in this post are affiliate links. That simply means I may receive a small commission (at no extra cost to you) if you purchase an item mentioned through the link.
Each month I'll be featuring the latest happenings in our AIP community and sharing here! You'll be able to get your favorite AIP staples and keep in the loop in one place.
NEW BOOKS & PROGRAMS
Simply Flavorful – Heads up! There's a new AIP e-cookbook on the block! Wendi has done a beautiful job creating nourishing recipes in this e-cookbook.
The Autoimmune Playbook Program – Samantha's new program is an intensive but easily digestible program dedicated to supporting gut and immune health.
AIP Lecture Series – The next session of the 6-week video-based AIP Lecture Series begins Monday, January 18th.
AIP Reintro Ready Group – Feel ready to reintroduce, but would like a little guidance during the process? This 6-week group coaching program is calling your name!
PODCASTS:
Phoenix Helix Podcast: Episode 160 – Do you experience insomnia? This podcast dives into the topic and shares how Cognitive Behavioral Therapy is more effective than sleeping pills.
The Whole View Podcast: Episode 427 – In this podcast episode, Stacy and Sarah explore the potential long-term effects stomach ailments like IBS can have and how plays into osteoporosis.
NEW BLOG POSTS AND VIDEOS:
Doris' Healing Story – In the newest post in Eileen's Healing Stories series, we meet Doris who has reversed Hashi's and progesterone dermatitis.
Detox Your Autoimmune Body Before the Holidays – Sam shares several tips for gentle detoxing before the holidays and why they're so helpful.
Benefits of Cinnamon for Autoimmunity – Curious what benefits may be in a simple spice like cinnamon? Meagen shares in this post!
What's the Deal with Coffee? – The reasoning behind cutting out some foods are more obvious than others. In this post, Amanda covers the all-too-precious coffee and shares the complexities of its removal during elimination stage.
Collagen vs. Gelatin vs. Bone Broth – Buckle up! Sarah's digging in to all things collagen-based. In this post she compares how supplements are extracted and processed, their digestibility, the relevance of the source, and what to look out for on labels.
The Importance of Magnesium for Autoimmunity – Do you supplement magnesium? This post covers just how important this element is.
Favorite "Green" Beauty & Body Items – In this post, Lexi is sharing her favorite products that made the cut.
FEATURED RECIPES AND RECIPE ROUNDUPS:
Ground Meat Recipe Roundup – Are you in need of some recipes using ground meat? You'll find a recipe for all kids of ground meat: from beef to turkey, from pork to venison in this curated roundup.
Apple Snacks for Fall – Have you gone apple picking yet? Sam is sharing some tasty apple snacks in this post.
Pumpkin Recipes for the Season – Here's a little roundup for the pumpkin lovers!
Roasted Fennel and Sweet Potatoes – You really can't go wrong with roasting a sheet pan of veggies. This recipe is perfect for batch-cooking!
Instant Pot Pumpkin Chili – Talk about a quintessential fall dish! This pumpkin chili sounds delicious.
Pumpkin and Spinach Quiche – No eggs? No problem! Bea has created a delicious quiche that's elimination stage compliant.
Pumpkin Pie – Gather up your baking staples! It's time to start thinking about pie.
Spiced Sweet Potato Cookies – These cookies are mostly sweetened with applesauce and sweet potatoes!
Roasted Red Kuri Squash – Michelle shares a simple side dish for this seasonal squash.
Hot Chocolate – This recipe is worth the Google Translate! A simple drink to warm up with, using carob powder.
Cranberry Orange Meatballs – These meatballs look delicious! Maple syrup and orange juice balance out the cranberries' tartness.
PRODUCT SPOTLIGHT:
Tiger Mamas Tigernut Super Cookies – Yes! Our friends at Paleo Angel have created their very own AIP cookies!
Reintroductions! - Considering the AIP isn't forever, we've expanded our product line to reflect that and celebrate your successful reintroductions! From time to time, you'll notice new products clearly labeled (e.g. Stage 1 Reintro AIP with the products' reintro ingredients listed).
ON SALE:
As always, have a look at the current items on sale and stock up on your favorites! You can also pre-order select items that are temporarily out of stock.
Erin is the blogger behind Real Food and Love who has used the AIP diet and lifestyle to recover from three autoimmune diseases. She strives for balance and juggles life as a wife, mother of three wildlings, expecting her fourth, and working part-time from home. All while avoiding stepping on Legos! One of her favorite ShopAIP products is KC Natural Carrot Marinara Sauce.