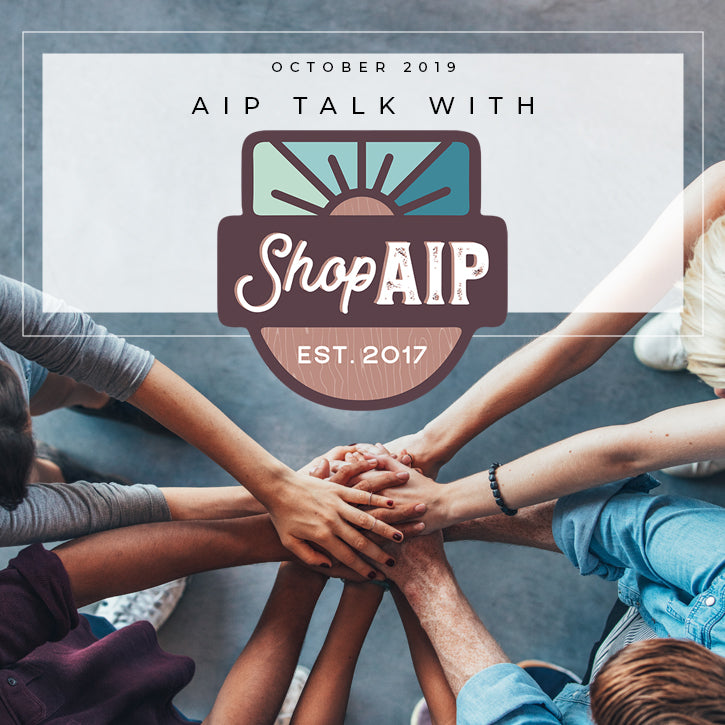 AIP Talk with ShopAIP October 2019
The ShopAIP Blog is a great resource for the latest articles, research, blog posts, podcasts, books, products and more related to the anti-inflammatory paleo autoimmune protocol (AIP) diet.
Some links in this post are affiliate links. That simply means I may receive a small commission (at no extra cost to you) if you purchase an item mentioned through the link.
Each month I'll be featuring the latest happenings in our AIP community and sharing here! You'll be able to get your favorite AIP staples and keep in the loop in one place.
BOOKS!
The Autoimmune Protocol Meal Prep Cookbook – Sophie has her newest book set to this month! This one is all about meal prep, and making the AIP not only manageable, but sustainable for long-term use. It includes TEN weekly compliant menus, shopping lists, and batch cooking instructions.
The Autoimmune Protocol Comfort Food Cookbook – Michelle Hoover from Unbound Wellness has her cookbook available! Featuring over 100 recipes – all of which are classic comfort foods revamped to be AIP compliant. She'll be doing a book signing event in the DFW area soon!
IN CASE YOU MISSED IT!
More Medical Study Results! – Can you believe it? The results of a SECOND medical study on the AIP and inflammatory bowel disease are out. This is amazing!
NEW PODCASTS:
Phoenix Helix Podcast: Sex and Autoimmune Disease – In this podcast episode, Eileen chats with Kate Wolovsky about a topic that doesn't get discussed nearly enough!
Emotional Autoimmune Podcast: Episode 24 – Kerry interviews Sigal who has been living with type 1 diabetes for over 17 years. She explains how she moved away from the victim mentality to a place of power and responsibility.
MUST-READ BLOG POSTS:
Perfectionism: A Pitfall to Healing – Are you a perfectionist? Maybe just a little bit? This is a great post on the topic of perfectionism and how it effects one's healing.
Benefits of Eating Healthy – Many of us already have first hand experience of the benefits of a healthy diet. Here's a post with 25 astounding stories of life and health benefits of eating healthy food!
AIP Holiday Tips – It's never too early to start preparing yourself (even if just mentally) for navigating the upcoming holiday season. It'll be here before you know it!
7 Nutrients You're Probably Deficient In – Did you know over 90% of Americans are deficient in at least ONE vitamin or mineral? Sarah talks about the top seven in this post.
First Trimester Recap – We're sending a huge congratulations to Michelle as she's recently announced her pregnancy. In this post she shares what's been on her plate, how she's feeling, and how she's navigating Hashi's.
FEATURED RECIPES:
Taro Root Fritters – Grated fresh taro root mixed with a little arrowroot makes for a perfectly crisp fritter!
Roasted Carrot and Sweet Potato Soup – This soup comes together quickly with roasted veggies, aromatics, and broth . Perfect to warm up with!
Apple Cider Vinegar Gummies – Sophie's sharing a sweet and sour gummy along with her favorites from Sweet Apricity this Halloween!
Simple Braised Beef – Slow cooked either in the oven or slow cooker, the beef pulls apart effortlessly when done. This braise uses red wine vinegar and broth .
King Trumpet Oyster Mushrooms with Chicken and Kale – Have you had this variety of mushroom before? This recipe's packed with flavor and nutrients!
FEATURED PRODUCTS:
Wild Zora Lamb & Veggie Bars are one of our most popular products. It's a great option for easy to pack protein!
The Autoimmune Protocol Guide came out this summer as a Paleo Magazine special edition, but we still have copies if you missed out! This guide is completely dedicated to the elimination stage and details what to eat (and why), practical tips and strategies, shopping guides, and 25 AIP recipes!
ON SALE:
As always, have a look at the current items on sale and stock up on your favorite AIP goods!
Erin is the blogger behind Real Food and Love who has used the AIP diet and lifestyle to recover from three autoimmune diseases. She strives for balance and juggles life as a wife, mother of two wildlings and a two-year-old, and working part-time from home. All while avoiding stepping on Legos! One of her favorite ShopAIP products is KC Natural No Tomato Pasta Sauce.