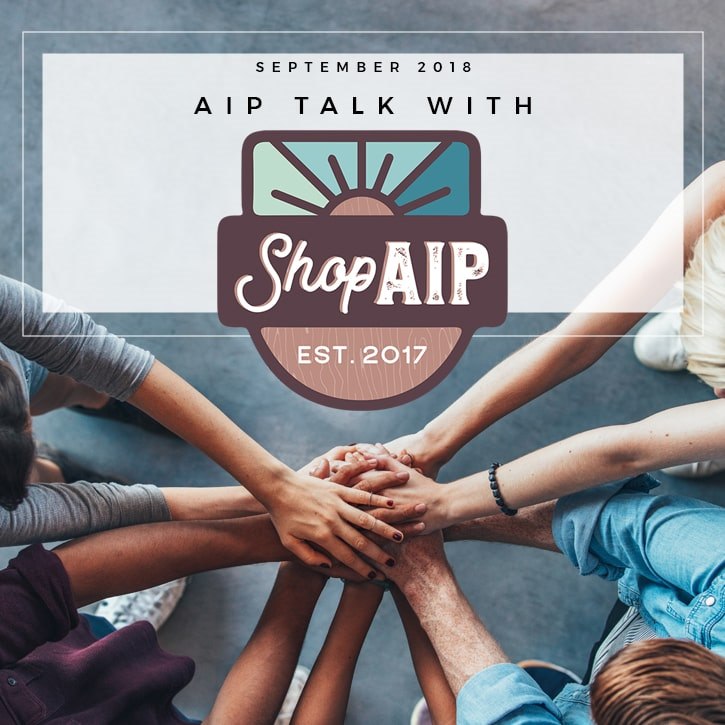 September 2018 AIP Talk with ShopAIP
ShopAIP Bog is a great resource for the latest articles, research, blog posts, podcasts, books, products and more related to the anti-inflammatory paleo autoimmune protocol (AIP) diet.
Each month I'll be featuring the latest happenings in our AIP community and sharing here! You'll be able to get your favorite AIP staples and keep in the loop in one place.
PODCASTS:
Finding Health While Housebound – While this particular episode of The Paleo View isn't new, it is one that will likely resonate. Sarah and Stacy take a question from a listener who is partly bedridden and housebound with overwhelming nausea and is looking for tips on how to eat more. They also talk about "setting yourself up for AIP success" with Shop AIP!
DNRS with Annie Hopper – In episode 104 of The Phoenix Helix Podcast, Eileen discusses dynamic neural retraining systems with Annie Hopper. Listen in and learn about this neuroplasticity-based therapy and how it can help "mysterious" illnesses!
MUST-READ BLOG POSTS:
Taking Personal Responsibility and Making it Yours – Joanna poses a simple question: "If you had the choice to put yourself first, why wouldn't you? "
Top 10 Pantry Items for AIP Baking - In this post, Sophie shares her favorite must-have ingredients for baking elimination stage compliant goodies!
Autoimmune Disease and Relationship Stress: Break the Cycle - Living with autoimmune disease can bring on all the emotions. In this post, there are some great tips to navigate relationship stressors (and not just romantic ones!) while still sustaining a healing environment.
FEATURED RECIPES:
Camp Food: Apex Fruit Farina – My family still wants to sneak in another camping trip before it gets too cold! This quick breakfast mix was perfect and so easy to make using Instant "Farina".
Tigernut Toffee Bars – Jaime shares a delicious, decadent treat with us. Without using added sweeteners!
NEW PRODUCTS:
Did you see? Sophie Van Tiggelen of A Squirrel in the Kitchen now has a Shop AIP bundle! See what made the cut in her specially curated bundle.
Autumn is coming! If you're like me, you're looking forward to fall leaves crunching beneath your feet, going to the pumpkin patch, picking apples, and making caramel apples. Thankfully, Sweet Apricity has released their new Sea Salted Caramel Sauce to make it easier!
Bare continues to create crave-worthy snacks with simple ingredients. These Sea Salt Carrot Chips would be great to pack in your lunch or serve as an after-school snack!
ON SALE:
Right now, there are 40 items on sale! Traditional Medicinals organic teas are currently 25% off. Add a touch of Wholesome Sweeteners raw honey for a pinky out treat!
Erin is the blogger behind Real Food and Love who has used the AIP diet and lifestyle to recover from three autoimmune diseases. She strives for balance and juggles life as a wife, mother of two wildlings and a new baby, and working part-time from home. All while avoiding stepping on Legos! One of her favorite Shop AIP products is KC Natural No Tomato Pasta Sauce.