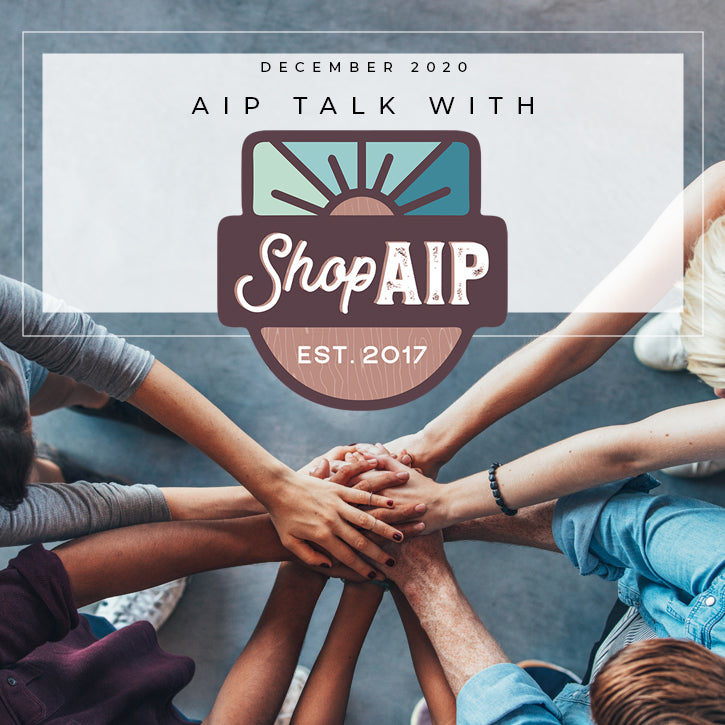 AIP Talk with ShopAIP December 2020
The ShopAIP Blog is a great resource for the latest articles, research, blog posts, podcasts, books, products and more related to the anti-inflammatory paleo autoimmune protocol (AIP) diet.
Some links in this post are affiliate links. That simply means I may receive a small commission (at no extra cost to you) if you purchase an item mentioned through the link.
Each month I'll be featuring the latest happenings in our AIP community and sharing here! You'll be able to get your favorite AIP staples and keep in the loop in one place.
BOOKS & PROGRAMS
The Autoimmune Protocol Reintroduction Cookbook – If you have a few reintroductions under your belt or will be ready to start reintroducing foods soon, you'll want to check this out! Kate always creates simple, nourishing recipes and this particular cookbook covers all the stages of the reintroduction phase.
AIP Lecture Series – Don't miss it! The next session of the 6-week video-based AIP Lecture Series begins Monday, January 18th.
AIP Reintro Ready Group – Feel ready to reintroduce, but would like a little guidance during the process? This 6-week group coaching program is calling your name!
Autoimmune & Women Workshop – Sam's offering a free workshop for women with autoimmunity!
PODCASTS:
Best Of Phoenix Helix Podcast: Episode 163 – Have you heard of DNRS? It's a therapy that can be done at home, rewiring the our body and brain for health.
The Whole View Podcast: Episode 436 – In this podcast episode, Stacy and Sarah talk about the concept of good health, the science behind health and how it is measured, and good health indicators.
NEW BLOG POSTS:
Two Simple Tricks to be More Present – The concept of being "present" can be tricky (especially this time of year).
The Health Benefits of Tropical Fruits – Sarah's dishing the science again, this time to redeem tropical fruit and share why it's good and good for you!
Using Meditation During the Holidays – With the last of the year's holidays here, that can mean stress. Sam shares ways to implement meditation to help alleviate stress.
FEATURED RECIPES AND RECIPE ROUNDUPS:
Hassleback Honeynut Squash – Here's a super simple side dish with a pretty presentation!
Moroccan Chicken Stew – You can never have too many yummy stew recipes to warm up with!
Honey Apple Pork Tenderloin – You may want to file this recipe away, because it looks AH-mazing!
Scalloped Sweet Potatoes – Who says scalloped potatoes are out on the AIP?
Lamb Chops and Roasted Figs with Balsamic Mint Sauce – Here's a stunning recipe featuring a slightly sweet sauce made of fresh mint, honey, and balsamic vinegar!
Game Ragout in Fig Sauce with Oyster Mushrooms – For our hunter friends out there, this recipe is worth the Google Translate! A comforting, wintry stew using your favorite game.
Cinnamon Thyme Apple Crisp – We love the addition of herbs to this crisp!
Coq au Vin – Coq au Vin may sound fancy, but it's super simple to make!
Tigernut Butter Stuffed Dates – How cute are these little treats? What topping would you add to yours?
Linzer Torte Christmas Cookies – Christmas may be tomorrow, but we're sure no one would be offended if you made these cookies after!
PRODUCT SPOTLIGHT:
Dark Choconot Fudge Cake Mix – This cake mix looks incredible! Worthy of your next AIP celebration.
Reintroductions! - Considering the AIP isn't forever, we've expanded our product line to reflect that and celebrate your successful reintroductions! From time to time, you'll notice new products clearly labeled (e.g. Stage 1 Reintro AIP with the products' reintro ingredients listed).
ON SALE:
As always, have a look at the current items on sale and stock up on your favorites! You can also pre-order select items that are temporarily out of stock.
Erin is the blogger behind Real Food and Love who has used the AIP diet and lifestyle to recover from three autoimmune diseases. She strives for balance and juggles life as a wife, mother of three wildlings, expecting her fourth, and working part-time from home. All while avoiding stepping on Legos! One of her favorite ShopAIP products is KC Natural Carrot Marinara Sauce.